Gucci Gucci, Louis Louis, Fendi Fendi, Prada.
Guys. Real talk: some of my favorite vintage pieces are from
Liz Claiborne
! Whenever I come across something epic from the eighties or early nineties in a thrift store (or online) there's a good chance it's from Liz. The tag may say 'Liz Sport' or 'Liz Wear' instead of 'Liz Claiborne' but it's all from the same mothership of awesome.
I could write about the great Liz pieces I've loved and lost: like the baggy, pleated shorts I scored a few years ago that had an almost identical abstract-floral print to one I saw on an (equally lovely) Rachel Comey dress. Or I could attempt to sketch the confetti-pattern short-sleeve shirtdress with a cinched drawstring waist that became a default summer uniform...
But I'll just do a little show and tell! In order, I give you: a recently re-discovered Liz piece, two Liz items that were/are on my wishlist, and two of my most recent Liz acquisitions.
I got this denim
bustier
/crop top at Salvation Army last summer. It was only $3.99 and it was brand new and unworn! It was the first thing I chanced upon when I arrived. There's a hidden side zip and underwire action happening in the bra cups for support. I imagine this over dresses and with high-waisted summer-y skirts, and I'll be using it to style some (okay, lots) of looks for the shop.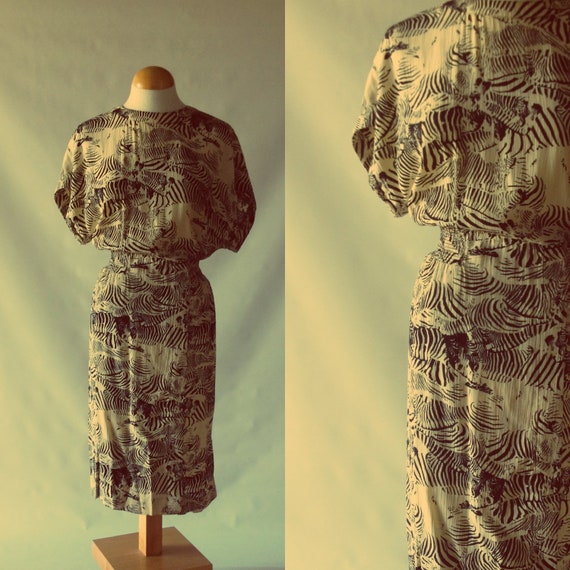 Interestingly, this is the only non-denim Liz item I'm sharing today.
It's
It was available from
Dig A Pony Vintage
on
etsy
. I love a lot of my Liz pieces for their patterns and, fittingly, this dress has a really cool pattern. I imagined hemming the skirt a few inches and wearing it with my bright red-orange suede flat sandals and underneath my green army jacket for a safari-chic (yes, a subtle safari-chic) look.
But now it's reserved so t'was not meant to be! I may self-soothe with
this
safari print dress from Madewell because if you can't buy the vintage one that you love...maybe you can find something new kinda sorta the same that you like a lot? (And man, I love Madewell for that
vintage-inspired-but-better
fix, but that's a post for another day, folks.)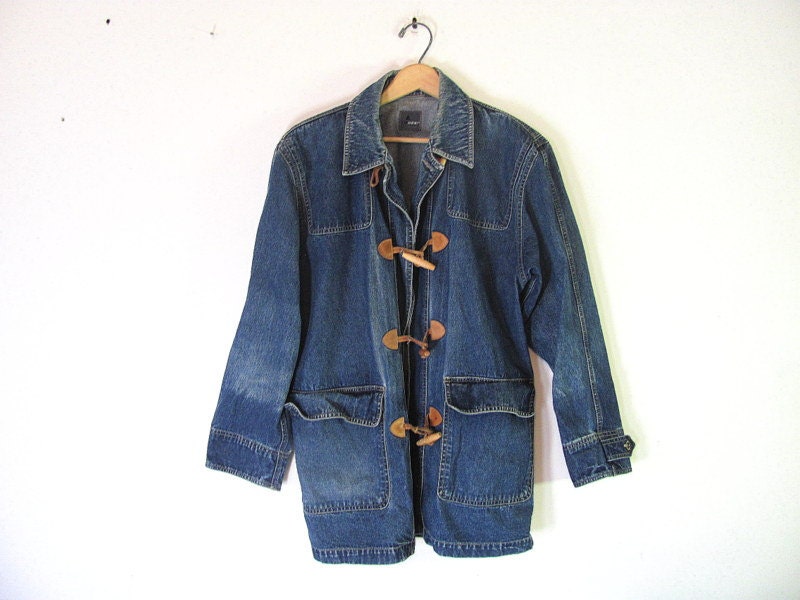 Okay, phew! This baby is still available from
Dirty Birdies Vintage
on
etsy
(for a mere $35, natch), plus I found a few of them on eBay, too. This denim barn jacket/toggle-coat combo design isn't unique and it's been around forever: I even saw a hooded version from Ralph Lauren and there's also one from Denim & Co. that was apparently available on QVC. BUT I like the denim wash on the Liz one best.
I think with this coat, (and actually a lot of Liz stuff, so maybe that's why the label is usually overlooked...) it's a slippery styling slope (sssssay that three times fast) to unintentionally taking these pieces into a dorky-mom or middle-school-substitute-teacher-that-tries-too-hard-to-be-cool place. This coat would be a nice contrast over an all-black sophisticated 'city girl' uniform of skinny jeans and edgy ankle boots. It'd also look casual and cool thrown over a striped minidress with the sleeves scrunched up.
You may recognize this guy from my
Instagram
. This was online score #1 whilst 'researching' the toggle coat discussed above. I've been loving all the baseball/varisty/letterman jackets coming back and I love that this one features denim! Well done, vintage Liz. Well done.
Last, but certainly not least...a two piece ensemble! (This would be online score #2.) I'll take your
Canadian tuxedo
and raise you an actual tuxedo made of denim! No joking. Obviously,
too much denim
can be
very, very bad
. But this will be
very, very good
with the proper styling and alterations, trust...because this is yet another great Liz piece. I'm going to elaborate on this one because I'm more excited about its potential than how it looks right now. Consider these 'before' pictures.
The blazer alone is going to be a fun piece and when I saw the matching pants I was sold. For the longest time (or at least since
this
and
this
) I've been looking for the
perfect suit
to transform into a shorts suit and this denim tuxedo is the one! So, just imagine the pants as shorts and you've got the 'after' picture...it's going to look great!
In conclusion, vintage Liz is awesome, amirite or amirite? Any other Liz lovers out there? Do you have a favorite not-so-obvious designer or label when it comes to vintage? I'll share pics of more awesome Liz pieces as I wear them/prep them for the shop!
Liz Claiborne alert: vintage Liz pieces also mentioned in
these posts
! I am the unofficial president of the nonexistent vintage Liz Claiborne fan club!