Okay. So it's
no secret
that I love older Liz Claiborne pieces. And, as tempted as I am to keep this dress a secret until I can acquire it, I had to share it with you all:
Striped shirtdress from the one and only Liz Claiborne. And, I love that Liz's greatness is acknowledged in the description
: '

Liz Claiborne in the 80s and 90s understood the modern sophisticated, independent woman.' Co-sign...
It's
available for $38
in
ARKCalifornia's vintage shop
on etsy. Buy it now. Before I do. (Sure, I already have a striped Liz dress but it's
completely different
...)
In other vintage Liz news, remember that
denim barn jacket
I was drooling over? I finally broke down and got it. No regrets. Like I said, it's great with a striped minidress (hell, any dress...) now and later with black skinny jeans and ankle boots: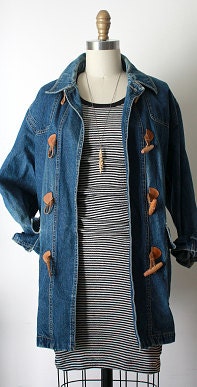 It's Liz, bitchezzz!
With this one acquired, I'll probably be selling the
fleece-sleeved denim baseball jacket
so look for that in the shop soon.
And in other not-so-secret news, the Vintage Adoption Agency
etsy shop
is having a bit of a spring cleaning sale: 25% off of everything through the end of April!