I recently scored
this
awesome dress from the Hunter Gatherer's Etsy
shop
. From the front it's more or less a plain little white dress with some subtle detail on the sleeves and at the neck but turn it around and BAM! it has an amazingly intricate floral cutout detail on the back:
The style of this detailing is called Bali cutwork...or Bali embroidery...or Bali crochet...or even Balinese lace. Fittingly, it did originate in Bali. Whatever you call it, it became a popular embellishment stateside in the late seventies and eighties on dresses and tops. Usually I see it in floral or leafy patterns, with colorful contrasting thread details or in pastels. I noticed a cheaper iteration made a comeback at some fast fashion retailers a few seasons ago and cover-up and sarong versions have become a staple in tourist-y boardwalk shops. I love that it's breezy and that it's less delicate than actual lace!
Turning around was never this dramatic...
I'll be wearing my dress on hot summer days with a leather belt and strappy sandals and I'll be adding
this
Balinese lace top to my shop. The detail at the neckline is perfect for showcasing a necklace! And it looks great worn casually over denim shorts or tucked into a skirt without adding bulk. The design is more subtle than revealing but still an interesting alternative to a black t-shirt:
Elsewhere on the internet (or at least the etsy universe), I'm really loving these two Balinese cutwork dresses: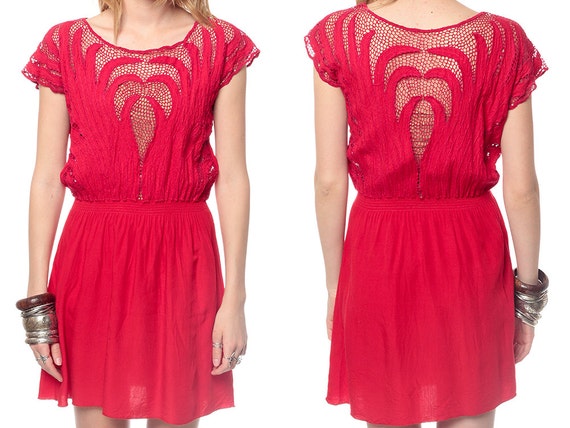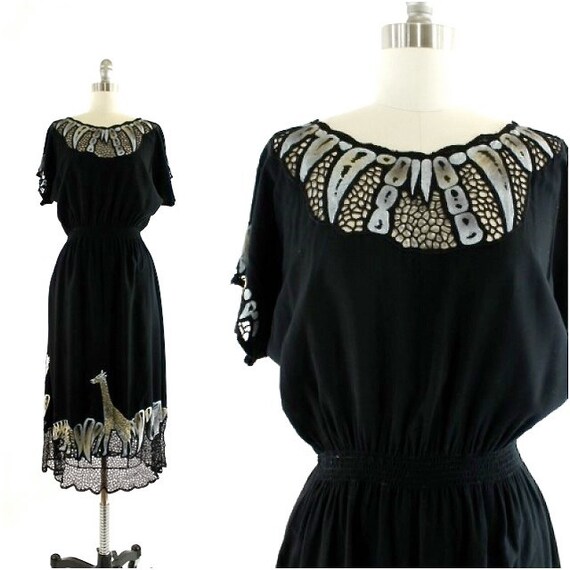 The
red one
is really bold and strategically designed and the
black one
has a more unusual animal pattern; check out those critters hanging out along the hem!
This one
has Bali detail and contrasting solid-colored flowers...it almost looks like neon signage and I like how it's styled for cooler weather with opaque tights and platforms!
Writing about Balinese lace reminds me of the scene from Rodger and Hammerstein's
South Pacific
when Juanita Hall (as Bloody Mary) sings "Bali Ha'i" and (because surely you, too, love kitschy movie musicals from the golden age...) I had to share some random facts I learned when I was looking for the
movie clip
of the song:
1. It was dubbed! Now, dubbing musical numbers
isn't shocking
BUT Juanita Hall had played Bloody Mary (and sang!) the song in the original Broadway version, so why was it dubbed? Go
read the blurb
about it under the YouTube video. And 2. (and I'll add a disclaimer as this is probably definitely just my own ignorance) Juanita Hall was African American! That surprised me since, well,
Flower Drum Song
is the only other musical I recognized her from...and she also plays an Asian lady. Check out "
Chop Suey
," which she sang in
Flower Drum Song
...or at least I think she's singing it! (Bonus: There are some choice dance moves in the group number towards the end!)
Anyway, let's bring it back to fashion: Juanita's costume in the "Bali Ha'i" scene is surprisingly on trend*...over 50 years later:
She's rocking a topknot, army jacket, long scarf, AND statement necklaces! Timeless! I created an identical look using my beloved army jacket, an old Old Navy scarf, a vintage
blouse
from the shop, and necklaces from Madewell and Forever 21. Now if only I could copy her voice...
*Okay, not her entire outfit. I can't really get on board with what's happening below her waist because the pants look like gauchos and she's barefoot. (Remember
gauchos
?! Those universally unflattering wide-leg capris?)